Restaurant Antiga Ustaia "Zita"
Restaurant with Homemade Specialities
Lavaggiorosso - Levanto (SP) - Italy
Telephone: +39 0187 800158
Cell: +39 338 2398374
e-mail: Reservations only by phone.
Monday closed.

The restaurant
In 1953 the restaurant was opened by Nadia's mum, and in 1992 it was restructured. It offers place for about 35 persons. The prepared local dishes are simple and homemade. We recommend you to book in time and eventually to specify the dishes which are only prepared on request.
The village
Lavaggiorosso - 281 meters
Already 1,000 b.Chr. the first habitants lived in this village. Together with Chiesanuova it is one of the valley's most antique villages. The village has been constructed behind a mountain in order to be protected against pirates. The church goes back to 1600, and also most of the houses are constructed in this period. The local products are olives, salted anchovies, wine and oil.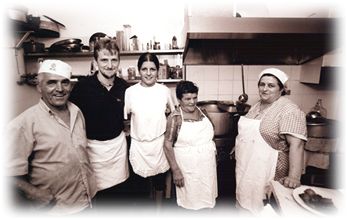 The Inn

In Lavaggiorosso you can find the antique inn "Zita", a simple restaurant with great atmosphere, on the top of the valley managed by a very nice family who is able to combine kindness with more than favorable prices.
The Starters are the speciality of the house. The homemade pasta dishes are served with excellent sauces. The portions are gigantic …
Delicious also the main courses like rabbit with pine-seeds, wild boar and stuffed mussels.
The inn's menu is dominated by the dishes based on meat and by the really genuine local red and white wine.
After lunch it is possible to take a walk thought the nearby olive groves, enjoying silence and peace.
From the terrace you can admire the light myriad of the valley of the Gulf of Levanto - the night here is very beautiful and extraordinary and it seems that one is able to touch the stars, lengthening a hand.
Typical dishes

Appetizers:
Mixed cold cuts (different kinds of ham, salami, olives and small mushrooms in oil)
Gattafin (fried puff pastry stuffed with mixed vegetables)
Salted anchovies with garlic and marjoram
Starters:
"Ravioli" with ragout (the ravioli are stuffed with chard, mortadella, bread, egg, cheese and vegetables)
"Pansotti" with walnut sauce (pasta stuffed with vegetables and served with a sauce based on cream and walnuts)
"Tagliatelle" with mushroom sauce or "pesto" from Genoa
If ordered before: risotto with mushrooms, minestrone
Main Courses:
Grilled beef with sauce, grilled rabbit with olives
"Cima" (boiled meatloaf based on beef, mortadella, bread, eggs, cheese) - a cold dish served in slices.
Stuffed anchovies and stuffed mussels.
Wild boar with pine-seeds and olives.
Grilled chicken.
Vegetables and side dishes:
Potatoes prepared in the oven and/or mixed salad
Peas in saucepan with garlic and parsley
Desserts:
Tiramisù
Tart with marmalade
Bruciatella
Fruit pie (please order in advance)
Prices: special prices.

In addition seasonal dishes. Welcome ...Buon appetito!